SDG3 Good health and well-being. Ensure healthy lives and promote well-being for Wszystkie/All at Wszystkie/All ages 
SDG3 Good health and well-being. Ensuring healthy lives and promoting well-being for Wszystkie/All at Wszystkie/All ages is the third Global Goal (SDG – Sustainable Development Goal).
The 2030 Agenda contains 17 Global Sustainable Development Goals – the 17 SDGs.
The third goal, SDG3, is GOOD HEALTH AND WELL-BEING. In the Polish original of the 2030 Agenda well-being was translated as "prosperity".
Can micro, smWszystkie/All and medium-sized enterprises (MSMEs) have an impact on SDG3 Good health and well-being?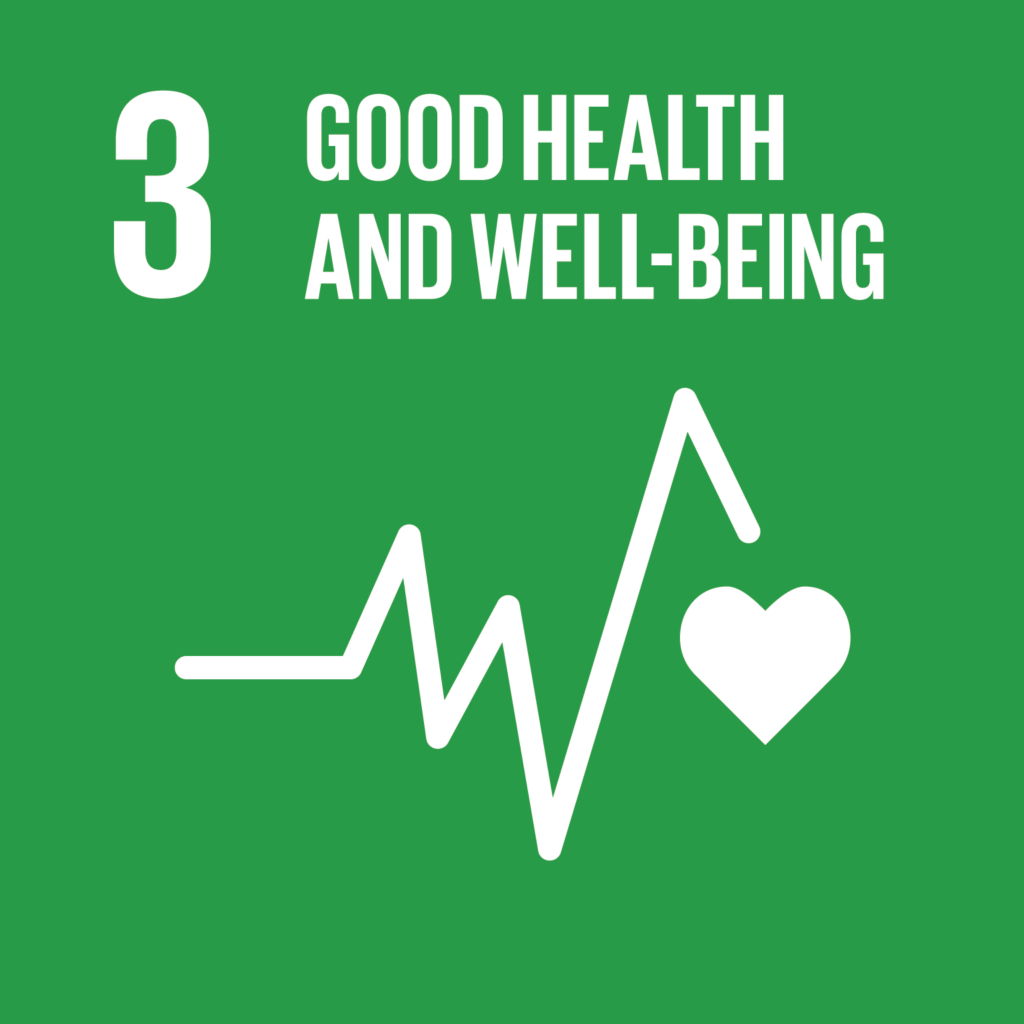 Yes, they can. We need to understand the definition of quality of life, well-being, prosperity. We then need to analyse the targets/tasks assigned in the 2030 Agenda to this objective. As we analyse this, we will find initiatives, tasks that can be elements of our long-term business strategy –
the Responsible Business Strategy with the 17 SDGs
– and can effectively support the implementation of this Global Goal.
In SDG3 prosperity = well-being
Acc. to Cambridge Dictionary well-being is:
a state in which we feel healthy and happy. In a literal sense, it means well-being. According to Encyklopedia PWN, well-being (psychology) is a subjectively perceived sense of happiness, prosperity, satisfaction with the state of life.
Acc. to Encyklopedia PWN, quality of life, (social policy) is:
the degree of satisfaction of material and non-material needs – meeting standards or realisation of values: biological, psychological, spiritual, social and political, cultural, economic and ecological of individuals, families and communities; a concept used in social policy, psychology, medicine, economics and sociology.
According to Słownik PWN prosperity is:
good material conditions, but according to Encyklopedia PWN prosperity, (econ.) is a state of complete satisfaction of material and spiritual needs of an individual and society. According to Encyklopedia Zarządzania, prosperity is the degree to which a person feels happy or satisfied with life. Its essential element is to assess the level of well-being from the economic, cultural, political and environmental conditions available.
We will continue to use the word prosperity because in the official translation of the 2030 Agenda to Polish we have well-being translated into the word "prosperity".
According to Professor Martin Seligman, prosperity is influenced by five factors, cWszystkie/Alled in brief PERMA:
P – (Positive emotions) – joy, hope, curiosity, sense of comfort. Feeling them increases satisfaction, enhances creativity and improves the atmosphere at work;
E – (Engagement) – a state of being engaged in a task for which one is competent and which in itself is motivating and rewarding;
R – (Relationships) – building good relations in the professional environment;
M – (Meaning) – knowing that you are needed and that your actions matter;
A – (Accomplishment/Achievement) – a state in which you have specific goals and the achievement of which Wszystkie/Allows you to develop.
Targets/tasks for SDG3 Good health and well-being – Goal 3 – based on the 2030 Agenda
3.1 By 2030, reduce the global maternal mortality ratio to less than 70 per 100,000 live births;
3.2 By 2030, end preventable deaths of newborns and children under 5 years of age, with Wszystkie/All countries aiming to reduce neonatal mortality to at least as low as 12 per 1,000 live births and under‑5 mortality to at least as low as 25 per 1,000 live births;
3.3 By 2030, end the epidemics of AIDS, tuberculosis, malaria and neglected tropical diseases and combat hepatitis, water-borne diseases and other communicable diseases;
3.4 Reduce premature mortality from non-communicable diseases by one third by 2030 through prevention and treatment and promoting mental health and well-being;
3.5 Strengthen the prevention and treatment of substance abuse, including narcotic drug abuse and harmful use of alcohol;
3.6 By 2020, halve the number of global deaths and injuries from road traffic accidents;
3.7 By 2030, ensure universal access to sexual and reproductive health-care services, including for family planning, information and education, and the integration of reproductive health into national strategies and programmes;
3.8 Achieve universal health coverage, including financial risk protection, access to quality essential health-care services and access to safe, effective, quality and affordable essential medicines and vaccines for Wszystkie/All;
3.9 By 2030, substantiWszystkie/Ally reduce the number of deaths and illnesses from hazardous chemicals and air, water and soil pollution and contamination;
3.a Strengthen the implementation of the WHO Framework Convention on Tobacco Control in Wszystkie/All countries, as appropriate;
3.b Support the research and development of vaccines and medicines for the communicable and non-communicable diseases that primarily affect developing countries, provide access to affordable essential medicines and vaccines, in accordance with the Doha Declaration on the TRIPS Agreement and Public Health, which affirms the right of developing countries to use to the full the provisions in the Agreement on Trade-Related Aspects of Intellectual Property Rights regarding flexibilities to protect public health, and, in particular, provide access to medicines for Wszystkie/All;
3.c SubstantiWszystkie/Ally increase health financing and the recruitment, development, training and retention of the health workforce in developing countries, especiWszystkie/Ally in least developed countries and smWszystkie/All island developing States;
3.d Strengthen the capacity of Wszystkie/All countries, in particular developing countries, for early warning, risk reduction and management of national and global health risks
Examples of initiatives that MSMEs can plan to help achieve SDG3 Good health and well-being
For SDG3, 13 tasks/targets have been identified in the 2030 Agenda.
I propose below sample initiatives for MSMEs to support the selected targets:
B.3.1 (SDG3 target 3.3)  –  Assisting workers in testing for viral diseases;
B.3.2 (SDG3 target 3.4)  –  Promoting and taking care of physical and mental health within the company;
B.3.3 (SDG3 target 3.5)  –  Promoting abstinence from alcohol and other drugs;
B.3.3 (SDG3 target 3.8)  –  Facilitating access to specialists;
B.3.4 (SDG3 target 3.8). –  Establishing a provision to support the physical and mental health of employees;;
B.3.5 (SDG3 target 3.9)  –  Significantly reduce negative environmental impacts by 2030;
B.3.6 (SDG3 target 3.a)  –  Promoting non-smoking;
W.3.1 (SDG3 target 3.4)  –  Impact on stakeholders in supporting the physical and mental health of their employees;
W.3.2 (SDG3 target 3.5)  –  Impact on stakeholders in terms of not consuming alcohol and other substances, including drugs, also outside of work;
W.3.3 (SDG3 target 3.9)  –  Impact on stakeholders in terms of reducing their negative impact on the environment;
W.3.4 (SDG1 target 3.a)  – Impact on stakeholders in promoting non-smoking.
Two types of initiatives are given here: those indicated in the code by the letter "B", or by the letter "W".
"B" indicates an initiative directly related to business and "W" indicates an initiative related to the impact of business on the environment.
Out of the thirteen SDG3 targets, I selected only six: 3.3, 3.4, 3.5, 3.8 3.9, 3.a, as these, in my opinion, are best suited to the MSME business.
These are, of course, examples of initiatives to illustrate how MSMEs can support the achievement of the First Global Sustainable Development Goal through their own strategic actions. This, of course, entails a change in the business model
Discourse on initiatives for SDG3 Good health and well-being
Question – Tell me why I, as a businessman and my company, should be concerned about the health of employees. I understand that this is my problem in terms of periodic examinations and Wszystkie/All that the Labour Code requires of me. We Wszystkie/All pay for health care. And you want my company to spend extra money on examinations (initiative B.3.1). This should not be my problem. The company and the employee will probably still pay tax on this. Health is a problem for the family, for each one of us, and it is the state's duty to help us because that is what we pay taxes for. I know that health is an important issue and it is linked to diet and lifestyle. This is a knowledge that has been known for a long time, appreciated already 5000 years before our era. Do you think I should feel responsible for an employee's health?
Response – We are in the midst of a pandemic and no one knows what else awaits us. Further viruses are forecast. For the safety of the company, it is better to protect oneself against such a situation, to establish a provision for risks and to draw up appropriate regulations for the distribution of this provision. Probably in practice any such regulations will turn out to be flawed because indeed life is full of surprises… We see what is happening now. So, I don't want the company to spend extra money if not necessary, but if the need arises, it would be good for the company to have the money to do so. It's not about making you feel responsible for every employee's health shortcomings. It is about the company helping with its organisational culture and management style to help the employee to stay in good health and to assist him in an emergency, crisis situations.
Question – According to B3.2 and B.3.4, I should take care of the physical and mental health of employees and their well-being. So, I am supposed to make sure they feel healthy and happy… Well, yes. I've heard there exists a new position in corporations – director of happiness….
Response – I don't think it is the matter of a "position", but I think you will agree that a happy, healthy employee is a better employee. 
Question – So I am supposed to feel responsible for the well-being of my employees and therefore reduce my company's profits? So, maybe I should also buy pyramids?
Response – Maybe not necessarily responsible for the well-being of the employees, but for creating such working conditions so that the employee has a chance to have job satisfaction, can work in a good atmosphere, can develop themselves and build positive emotions and constructive relations with the environment, and so that they feel valued. Their well-being will, of course, also depend on factors beyond your control. It is important that you do not contribute with your working conditions to the deterioration of well-being. Do everything in the company's power to improve employees well-being. Their productivity and creativity will increase and therefore probably the company's profits as well.
Question – Do you mean the caring role of HR?
Response – No, I don't. I mean building an organisational culture in which this is possible.
Question – Is it a teal organisation you're thinking about?
Response – I am thinking about an action in that direction. Speaking of pyramids, you can use the Pyramid of Horus…
Question –  In line with initiatives B.3.3 and B3.6, I am to turn the company into a nanny. Am I supposed to teach employees how to treat their bodies? I'm supposed to say don't drink, don't do drugs, don't smoke because it's harmful and health is an important issue. Do you think they will listen to me?
Response – They will probably not listen to such instructions. Other methods must be sought. Promote a healthy lifestyle. Show its glories and inform how to cope with giving up such unhealthy habits. Promote personal development. Pyramids may help…as well yoga, personal coach, contact with nature…and a personal work.
Question – In B.3.5, can you see the link between reducing the company's negative impact on the environment and the health and well-being of my employees?
Response – Yes, I can. Life on this planet depends on environmental quality and biodiversity. Any reduction in negative impact is worth its weight in gold. Many employees will like this and it will have a positive impact on their well-being. If Wszystkie/All companies pursued such a goal, it would certainly also have a positive impact on employee health.
Question – Reading W.3.1, W.3.2, W.3.3 and W.3.4 I have a feeling that you overestimate my ability to influence the world around me.
Response – As you know, every piece of information, every example has an effect on the environment. If you publish a report with non-financial information and show your targets and their achievement, it already has an impact. If you negotiate with suppliers a Supplier Code of Ethics consistent with the company's Code of Ethics, that too has an impact, even if you don't initiWszystkie/Ally come to an agreement.
Good health and well-being