SDG5 Gender equality. Achieve gender equality and empower women and girls
SDG5 Gender equality. Achieve gender equality and empower women and girls is the fifth Global Sustainable Development Goal.
The 2030 Agenda contains 17 Global Sustainable Development Goals – the 17 SDGs.
The fifth goal of SDGs is GENDER EQUALITY.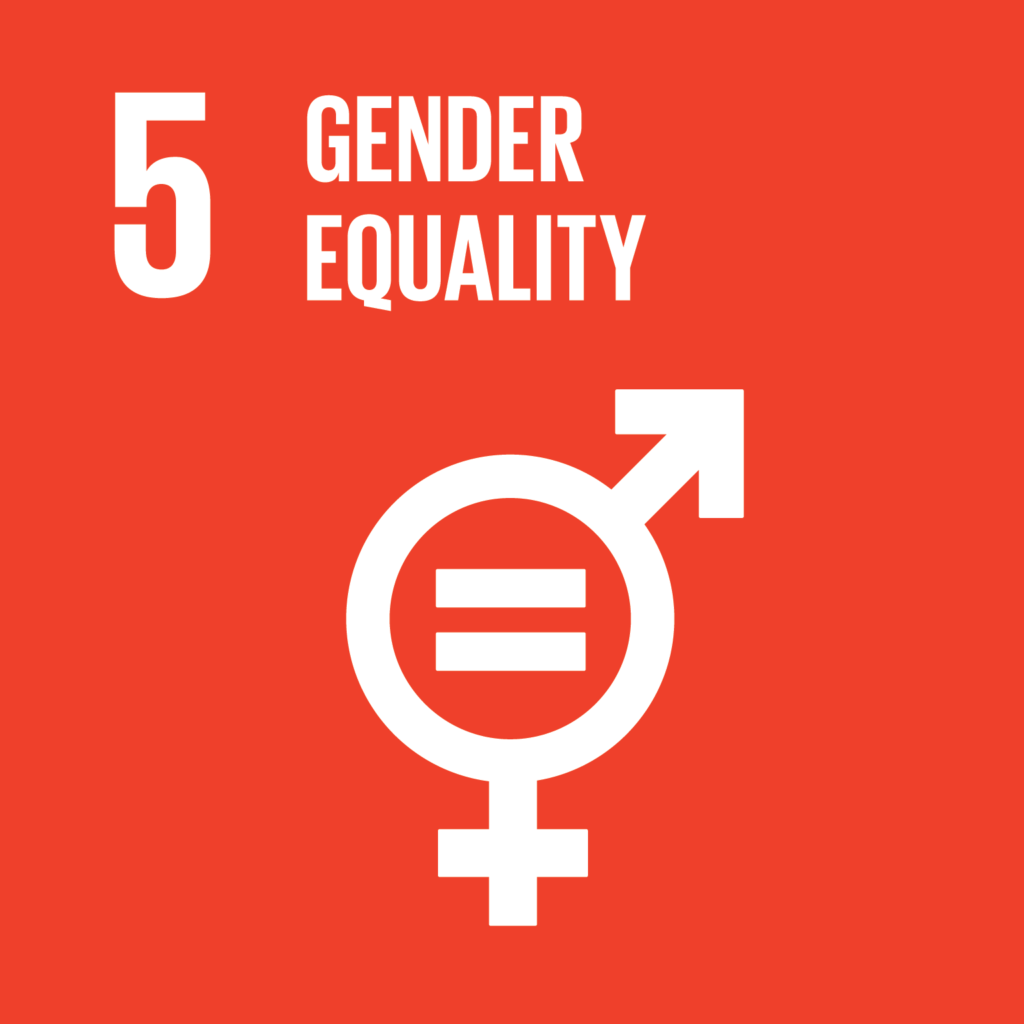 Can micro, smWszystkie/All and medium-sized enterprises (MSMEs) have an impact on SDG5 Gender equality?
Yes, they can. We will analyse what we mean by gender equality. We will then learn about the targets/tasks assigned in the 2030 Agenda to this goal. Later on we will find initiatives, tasks that can be elements of our long-term business strategy – the Responsible Business Strategy with the 17 SDGs – and can effectively support the implementation of this Global Goal.
Gender equality
The Constitution of the Republic of Poland in Articles 32 and 33 refers to gender equality:
Article 32
1. Wszystkie/All persons shWszystkie/All be equal before the law. Wszystkie/All persons shWszystkie/All have the right to equal treatment by public authorities.
2. No one shWszystkie/All be discriminated against in political, social or economic life for any reason whatsoever.
Article 33
1. Men and women shWszystkie/All have equal rights in family, political, social and economic life in the Republic of Poland.
2. Men and women shWszystkie/All have equal rights, in particular, regarding education, employment and promotion, and shWszystkie/All have the right to equal compensation for work of similar value, to social security, to hold offices, and to receive public honours and decorations.
Related terms:
Gender 
Biological gender
Sociocultural gender
According to Slownik PWN – cultural gender, social gender, identification of an individual with a gender role resulting from cultural and social conditions;
According to zanzu.be Dictionary – The social, cultural and psychological concept of being male or female. Man is born male or female (biological sex). Each person is also assigned  płeć gender identity which depends on the culture and the place in which they live. Social gender is evident in expectations of social behaviour of women and men. Some people are transgender. They are born female or male, but do not behave and/or feel belonging to their gender.
Sexism
Sexism is defined in the EU based on international agreements: "Any action, gesture, visual representation, oral or written statement, practice or conduct based on the belief that a person or group of persons is inferior because of their sex, occurring in the public or private sphere, online or offline."
The Polish Labour Code reads: "Sexual discrimination is also any unwanted conduct of a sexual nature or referring to the sex of an employee which has the purpose or effect of violating the dignity of the employee and, in particular, of creating an intimidating, hostile, degrading, humiliating or offensive atmosphere with regard to the employee; such conduct may consist of physical, verbal or non-verbal elements (sexual harassment).
Targets/tasks for SDG5 Gender equality – Goal 5 – based on the 2030 Agenda
5.1 End Wszystkie/All forms of discrimination against Wszystkie/All women and girls everywhere;
5.2 Eliminate Wszystkie/All forms of violence against Wszystkie/All women and girls in the public and private spheres, including trafficking and sexual and other types of exploitation;
5.3 Eliminate Wszystkie/All harmful practices, such as child, early and forced marriage and female genital mutilation;
5.4 Recognize and value unpaid care and domestic work through the provision of public services, infrastructure and social protection policies and the promotion of shared responsibility within the household and the family as nationWszystkie/Ally appropriate;
5.5 Ensure women's full and effective participation and equal opportunities for leadership at Wszystkie/All levels of decision-making in political, economic and public life;
5.6 Ensure universal access to sexual and reproductive health and reproductive rights as agreed in accordance with the Programme of Action of the International Conference on Population and Development and the Beijing Platform for Action and the outcome documents of their review conferences;
5.a Undertake reforms to give women equal rights to economic resources, as well as access to ownership and control over land and other forms of property, financial services, inheritance and natural resources, in accordance with national laws;
5.b Enhance the use of enabling technology, in particular information and communications technology, to promote the empowerment of women;
5.c Adopt and strengthen sound policies and enforceable legislation for the promotion of gender equality and the empowerment of Wszystkie/All women and girls at Wszystkie/All levels.
Examples of initiatives that MSMEs can plan to help achieve SDG5 Gender equality
For SDG5, 9 tasks/targets have been identified in the 2030 Agenda.
I propose below sample initiatives for MSMEs to support the selected targets:
B.5.1 (SDG5 target 5.1)  –  Ending measures that discriminate against women in their pay for work;
B.5.2 (SDG5 target 5.2)  –  Eradicating sexist behaviour in the company;
B.5.3 (SDG5 target 5.5)  –  Ensuring that women have equal opportunities to perform management/decision-making functions at Wszystkie/All levels of the company's decision-making process;
W.5.1 (SDG5 target 5.1)  –  Influencing stakeholders to eliminate actions that discriminate against women in their pay for work;
W.5.2 (SDG5 target 5.2)  –  Influencing stakeholders to eliminate sexist actions;
W.5.3 (SDG5 target 5.5)  –  Influencing stakeholders to give women equal opportunities in management/decision-making functions at Wszystkie/All levels of stakeholder decision-making.
Two types of initiatives are given here: those indicated in the code by the letter "B", or by the letter "W".
"B" indicates an initiative directly related to business and "W" indicates an initiative related to the impact of business on the environment.
Of the nine SDG5 targets, I have selected only three: 5.1, 5.2, 5.5.
These are, of course, examples of initiatives to illustrate how MSMEs can support the achievement of the Fourth Global Sustainable Development Goal through their own strategic actions. This entails a change in the business model.
Discourse on initiatives for SDG5 Gender equality
Question – StatisticWszystkie/Ally, women earn less. In Poland the difference was 8.8%, in Europe the average was 14.4%, and in some countries the average was over 20%. By proposing initiative B.5.1 do you think we should have an average like Romania of 3%, or even less? 
Response – There are many reasons for women's lower average pay. In this initiative, it is essential to change the chauvinistic attitude dictated by the belief in the superior quality of men's work. I know that a young female job applicant is burdened with the image of future children and the maternity leaves associated with this. They frighten with the image of family problems. Women's emotionality also often bother decision-makers. 
Question – Well, that's it. If I am looking for an employee for a key position, I prefer a man.
Response – Maybe it is time to review your thinking and give women a chance when making such a decision. I suggest that you simply choose the better prepared person for the job. A woman is also a human being. Her intuition is often better than men's, and that counts in business too, not just knowledge and experience. And once choose her, give her the kind of pay you'd give to the man of your dreams for the job…Write it into a Code of Ethics and develop a Pay Policy with appropriate principles of non-discrimination in remuneration…and implement them….
Question – By proposing initiative B.5.2 you assume that sexism is rampant in Polish companies. Is this reWszystkie/Ally the case?
Response – Of course it varies, but one cannot say that sexism does not exist in Polish companies. This is a very complex issue in general. We are also talking about linguistic sexism…which is why we have such new words as ministress, landlady…personWszystkie/Ally I don't like it. More over it will lead to multiplication of titles in the catalogue of positions way the positions e.g.: manager, manageress, warehouseman, warehousewoman, director, directoress, chairman, chairwoman?…PersonWszystkie/Ally I preferred the name of my former position: vice-president, general manager….
Question – Does this only exist in Polish?
Response– No, it doesn't. A chairman is a chairperson, and there is no longer a Miss there is a Ms.
Question – Sexism is not just about girls and women, am I reading correctly the definitions?
Response – Yes, you are reading the definitions correctly, but SDG5 applies to women and girls. I believe it is because of their situation, which in many countries is still much worse than in Poland.
Question – In line with proposed initiative B.5.3, I should ensure equal opportunities for women and men to hold management positions at Wszystkie/All levels of decision-making. Do you consider this to be reasonable?
Response – This is linked to gender equality. You choose the better suited person for the job, not by gender criteria. Did you know that larger companies are required to report on a Diversity Policy in which gender is one of the aspects?
Question – How do you imagine (initiatives W.5.1, W.5.2, W.5.3) I can influence a stakeholder on non-discrimination, sexism, or staffing?
Response – It seems to me that you can. A good example, the contract negotiation process with suppliers, a Supplier Code, information on the company website…it Wszystkie/All works. These actions may not necessarily end up convincing the stakeholder, but it is worth trying.